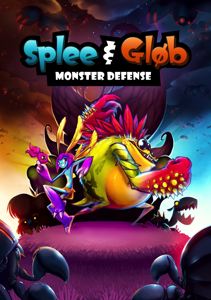 Products
Splee & Gløb: Monster Defense (box): £13.95

System requirements:
TBD - Expected requirements - PRELIMINARY

Windows Vista/ Windows 7/ Windows 8, Windows XP
Mac OS X 10.6,or better
Intel Mac Core Solo/1.2GHz, 4096MB RAM, 256MB VRAM
Ubuntu Linux - potentially other Debian based distributions.
Translated Information






Splee & Gløb is on

Facebook
and it is on


Twitter


Visit the Home of Splee & Gløb


Homepage




Developed by:



I agree with the
privacy policy
.
Splee & Gløb: Monster Defense
A unique RTS with a campaign, co-op and passive-competitive gameplay.
Splee & Glob: Monster Defense is an Action Real Time Strategy game for PC, Mac and Linux. Potentially available in the future for Wii U, PlayStation 4 and XBox One, depending on the success of our Kickstarter campaign.

In Splee & Glob, the player defends a bizarre monster-filled world against A.I.-driven robots through third person combat and clever tower-building. While introducing new challenges through non-linearity, the game avoids players being overwhelmed in online play. Thus, it is suitable for die-hard genre fans and at the same time provides a frustration-free experience for casual gamers.




In a strange world inhabited by creatures which you might call monsters, there was peace, but it could not last. One day a crazed robot army arrived with the sole objective to exploit the planet's precious resources. It's now up to the nerdy engineer Splee and her hunky pal Gløb to stop the invaders.
In Splee & Gløb: Monster Defense, up to two players take control of the unlikely couple to fend off invaders through strategic tower-building, crowd control and dynamic third-person combat.


ALL MATERIALS SHOWN ARE TAKEN FROM A PROTOTYPE AND ARE NOT FINAL

Features:
innovative gameplay beyond classic, linear tower defense
a unique and colorful setting
an action RTS game without pressure: play this engaging strategy game online without being rushed by other players
asymmetric co-op with two very different, controllable characters
tower...err monster-building including mazes at the start of each scenario with multiple lanes
Artificial intelligence driven opponents on the ground and in the air with very different behaviours
progress with multi-level monster upgrades, character skills and consumables
a single-player campaign that integrates seamlessly with 2 player co-operation
an optional player against player (versus) mode for passive-competitive gameplay for 1vs1 or 2vs2